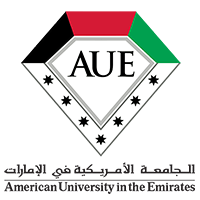 American University in the Emirates
Bachelor of Business Administration in Finance
AUE offers a strong multi-cultural, multi-lingual and friendly atmosphere for its students for this program. Dubai being a world class leading financial hub, the relevance to study Finance and practice is more than compelling! AUE seeks to advance knowledge of finance through across-the-board teaching. This is achieved by drawing interactive and video conferencing sessions through a mixed group of faculties including ones from other continents.
Required Credit Hours: minimum 126 hours
Accreditations:
The colleges and universities of the United Arab Emirates, government-supported and private alike, play an essential role as we here in the U.A.E. seek to realize the tremendous potential of a knowledge-based future.
Entry Requirements
Education
Attested high school (grade 12) certificate or its equivalent with minimum average of 60% | for scientific and literary streams. Other streams will require a minimum score average of 70% equivalency and a letter will be required for certificate earned outside UAE.
English Proficiency
PBT 500 | iBT 61 | IELTS ACA. 5.0 | PEARSON 44 | IESOL B1/B2 | CAMBRIDGE 154